Baltic EU Member States spend highest share of household expenditure on alcohol
January 03, 2019
In 2017, households in the European Union (EU) spent 1.6% of their total consumption expenditure on alcoholic beverages. This represents a total expenditure of over €130 billion, equivalent to 0.9% of EU GDP or over €300 per EU inhabitant. It should be noted that this does not include alcoholic beverages paid for in restaurants and hotels.
Baltic EU Member States spend highest share of household expenditure on alcohol, Spain spends least
In the EU in 2017, the share of total consumption expenditure spent on alcoholic beverages was the largest in three Baltic States: Estonia (5.2%), Latvia (4.9%) and Lithuania (4.0%). They were followed by Poland (3.5%), Czechia (3.3%), Hungary (3.0%) and Finland (2.8%).
At the opposite end of the scale, Spain (0.8%), Greece and Italy (both 0.9%) spent the lowest proportions of household spending on alcoholic beverages, ahead of Germany, Austria and Portugal (all 1.4%).
To our question what exactly was measured and if, for instance, in case of Estonia, the purchases of tourists were excluded, Eurostat explained following:
"Household final consumption expenditure, abbreviated as HFCE, consists of the total outlay on individual goods and services by resident households, including those sold at below-market prices. HCFE includes imputed expenditures or transactions which do not occur in monetary terms and can therefore not be measured directly."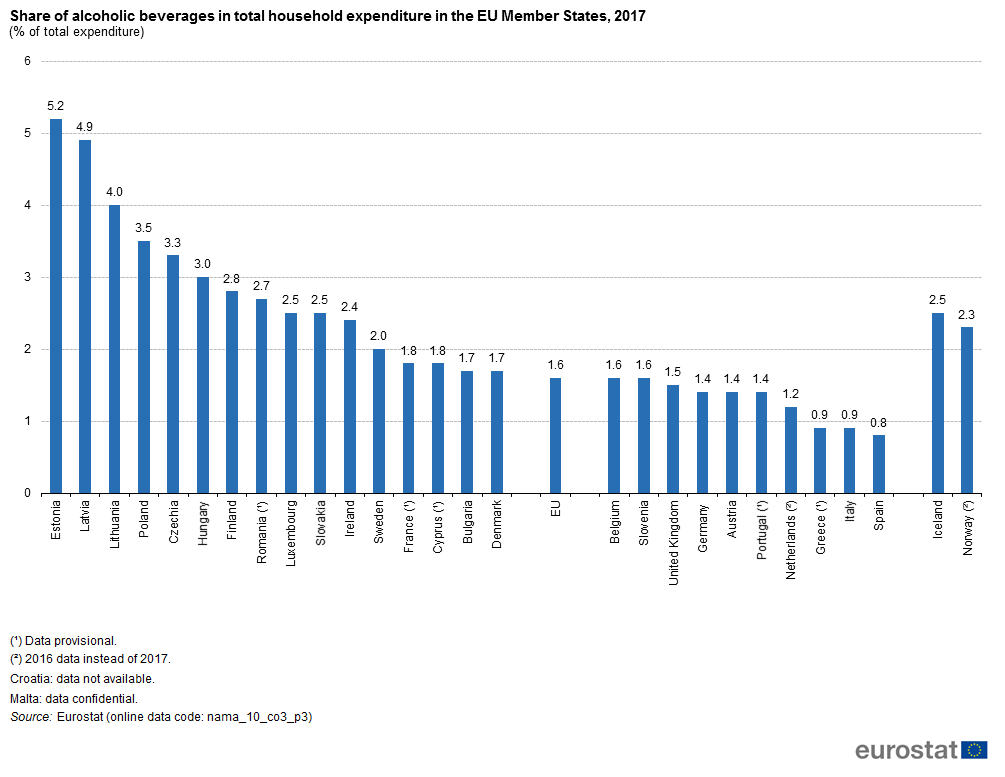 Share of expenditure on alcohol increased mainly in Romania and Portugal
Between 2007 and 2017, the share of alcoholic beverages in total household expenditure remained roughly stable in the vast majority of Member States. The highest increases over this 10-year period were recorded in Romania (from 2.3% of total household expenditure in 2007 to 2.7% in 2017, or a rise of 0.4 percentage points (pp)) and Portugal (+ 0.3 pp, from 1.1% to 1.4%).
In contrast, between 2007 and 2017, the share of alcoholic beverages in total household expenditure fell significantly in Bulgaria (from 3.0% in 2007 to 1.7% in 2017, or a decrease of 1.3 pp), Lithuania (- 0.7 pp, from 4.7% to 4.0%), and Finland (- 0.5 pp, from 3.3% to 2.8%).
Source: Eurostat
Related Posts via Taxonomies