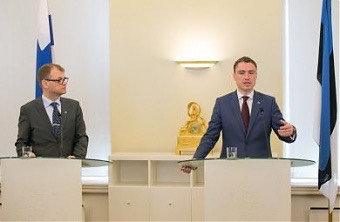 Finnish and Estonian Prime Ministers agree to continue on joint projects between the two countries
June 15, 2015
Finnish new Prime Minister Juha Sipilä and Estonian Prime Minister Taavi Rõivas stressed at their joint press conference on June 9th 2015 in Tallinn the unique economic cooperation of the two states and assured that the cooperation initiated by previous governments on a number of joint projects will continue but concerning alcohol taxes two neighbours are choosing different ways,
the Baltic Course
reports.
"In Finland, there will be an increase in excise duties on tobacco while there are no plans to increase alcohol excise duty, since if the increase is big, the proportion of imported alcohol will start increasing rapidly," explained Sipilä.
Parliament of Estonia adopted today (June 15) law that fixes alcohol tax raise until 2020. Adopted law raises alcohol excise tax in 2016 by 15% and by 10% in the next 4 years making the total tax raise 55% in next 5 years.
Related Posts via Taxonomies