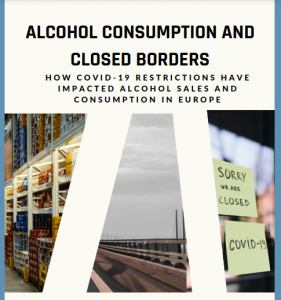 New study – European alcohol consumption fell during the pandemic
June 01, 2022
A new study covering 13 European countries reveals that alcohol consumption in Europe fell during the first 10 months of the pandemic. Lockdowns, alongside restrictions on restaurants, pubs and bars and closed borders may explain the sharp fall.
The study "Alcohol consumption and closed borders" examines how covid-19 and covid-19 restrictions impacted the sale and consumption of alcohol in Europe. Through an analysis of monthly alcohol tax receipts from 13 European countries covering the years 2015 through 2020, the study finds that alcohol sales and consumption fell in Europe during the pandemic.
The pandemic created a unique opportunity to study what happens to alcohol consumption when you limit the availability of alcohol

, says Håkan Leifman, main author to the study and researcher at Karolinska Institute in Stockholm
The 3.6 percent decline in alcohol consumption is however not shared across all individual countries or beverage categories. The difference is particularly stark for those countries with high levels of cross-border shopping before the pandemic. Countries with large volumes of cross-border shopping pre-pandemic tended to see higher domestic purchases once the pandemic hit. However, when looking at the actual consumption of alcohol, it seems to have fallen even more in these countries than others.
Higher domestic sales during the pandemic led to more income from alcohol taxes, all the while people in countries such as Sweden seem to actually have consumed less alcohol,

Håkan Leifman explains.
The results have implications for public health policy and lend support to the idea of restricting cross-border alcohol purchasing rules through national or EU-level policy change. Over time, such changes could provide lasting relief for national healthcare systems and decrease alcohol-related mortality, particularly in those EU Member States with the highest excise duties on alcohol.
The results stress the importance of including public health as a variable when the EU reviews its rules surrounding cross-border alcohol purchases

, Leifman concludes.
STUDY: Alcohol consumption and closed borders – how COVID-19 restrictions have impacted alcohol sales and consumption in Europe
AUTHORS: Håkan Leifman, Kalle Dramstad & Emil Juslin
Read the full study here: https://bmcpublichealth.biomedcentral.com/articles/10.1186/s12889-022-13014-1
Related Posts via Taxonomies